Dental Implants
Tooth replacement becomes necessary for many adults at some point. While dentures and crowns both address aesthetic and functional effects of tooth loss, their value does not approach that of implants in many ways. Dental implants look, feel, and work just like natural teeth. Furthermore, implants can last for a lifetime when patients maintain them properly. Here is more about the most preferred option for having teeth replaced by Dr. Nazari, Houston dental implants dentist.
The essence of implants is in the titanium posts that support them. These posts are inserted surgically into the jaw bone, where they heal over several months until they are firmly integrated with the bone tissue. At that point, the posts can be used to mount your new artificial tooth.
In contrast to other tooth replacements, dental implants eliminate the risk of jaw bone resorption after tooth loss. This is because the implants fill the holes left by missing tooth roots. Besides keeping the jaw from shrinking, the presence of implants in the jaw bone lets patients speak and chew with no fear of slippage, which can occur with dentures.
Dental Implants Houston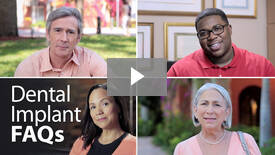 Our Houston dental implants dentist offers multiple options depending on eligibility and goals. For patients whose jaw bone density is insufficient at first, our dentist for dental implants in Houston may recommend bone grafting to increase the bone mass before implant surgery. Mini implants, which do not require as much bone mass as standard implants, are more affordable and significantly reduce recovery time. Finally, All-On-4 and All-On-6 implants offer a full set of dentures fixed in place with just four and six implants, respectively.
Most adults are candidates for our dental implants in Houston. However, candidacy may be complicated or prevented by certain factors, such as smoking, alcoholism, and uncontrolled diabetes. Healthy gums are required to promote the best chance of long-term implant retention. After implant placement, patients will maximize the longevity of their implants by brushing and flossing daily and getting regular check-ups. Patients can schedule a consultation with our dentist in Houston to find out more about the benefits this treatment may hold for them.